Print 9 of 12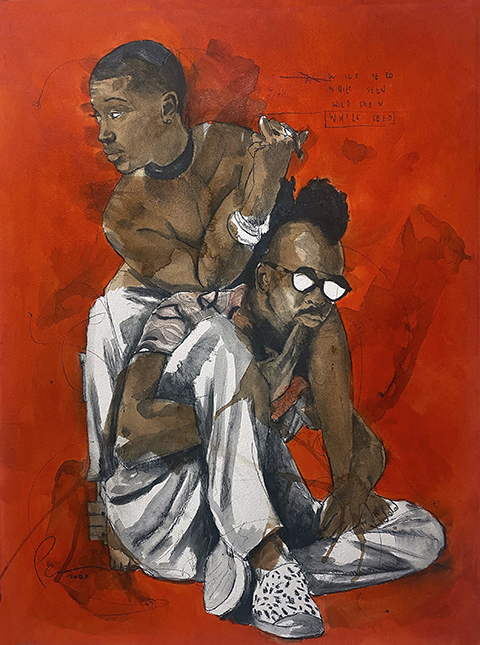 Fahamu Pecou
While Seed

2020
8.5 x 11 in.
Pigment print
Edition of 30
$300
︎︎︎
Add to Cart
Artist Bio
Dr.
Fahamu Pecou
(BSFF13, BSFF17, BSFF20) is an interdisciplinary artist and scholar whose works combine observations on hip-hop, fine art and popular culture. Pecou's paintings, performance art, and academic work addresses concerns around contemporary representations of Black masculinity and how these images impact both the reading and performance of Black masculinity.
Fahamu received his BFA at the Atlanta College of Art in 1997 and a Ph.D. from Emory University in 2018. Dr. Pecou exhibits his art worldwide in addition to lectures and speaking engagements at colleges and universities. As an educator, Dr. Pecou has developed
(ad)Vantage Point
, a narrative-based arts curriculum focused on Black male youth.
Pecou's work is featured in noted private and public national and international collections including; Smithsonian National Museum of African American Art and Culture, Societe Generale (Paris), Nasher Museum at Duke University, The High Museum of Art, Crystal Bridges Museum of American Art, Seattle Art Museum, Paul R. Jones Collection, Clark Atlanta University Art Collection and Museum of Contemporary Art Georgia.
Pecou was recently named the inaugural Artist-in-Residence for the Atlanta Beltline. In 2017 he was the subject of a retrospective exhibition "Miroirs de l'Homme '' in Paris, France. His work also appears in several films and television shows including; HBO's Between the World and Me, Blackish, and The Chi. Pecou's work has also been featured on numerous publications including Atlanta Magazine, Hanif Abdurraqib's poetry collection, A Fortune for Your Disaster and the award-winning collection of short stories by Rion Amilcar Scott, The World Doesn't Require You.
Print 8 of 12
Andrea Pippins
Coiffuture: Shine

2015
8.5 x 11 in.
Pigment print
Edition of 30
$300
︎︎︎
Add to Cart
Artist Bio
Bowie, Maryland, native
Andrea Pippins
(BSFF13, BSFF14, BSFF15, BSFF16, BSFF17, BSFF18, BSFF19) studied at Temple University's Tyler School of Art, where she earned a B.FA. in graphic design. She began her career as a graphic designer working for Hallmark Cards before transitioning to illustration work for cable television networks.
After earning her M.F.A. at Temple, Pippins taught graphic design at both Stevenson University and the Maryland Institute College of Art. Since then, she has been working as a designer and illustrator on projects for ESPN, Five Below, Instagram, Sephora, Lincoln Center, Malala Fund, Nick Jr., the National Museum of African American History and Culture, and USPS.
Pippins has also authored and illustrated several books, among them are
I Love My Hair
, a coloring book celebrating a variety of hairstyles and textures;
Becoming Me
, an interactive journal for young women; and
We Inspire Me
, a collection of essays and ideas to inspire the cultivation of a creative community.
With a celebratory and bold visual style that utilizes vivid color, Pippins uses her work to propel her mission of empowering women and girls through creative expression.
She lives in Stockholm, Sweden.
Print 7 of 12
Terence Nance
Franklin and Fulton
2020
8.5 x 11 in.
Pigment print
Edition of 30
$300
︎︎︎
Add to Cart
Artist Bio
Terence Nance
(BSFF15, BSFF16, BSFF17, BSFF18, BSFF19) is an Artist, Musician, and Filmmaker born in Dallas, Texas in what was then referred to as the State-Thomas community. Nance wrote, directed, scored, and starred in his first feature film,
An Oversimplification of Her Beauty,
which premiered at the 2012 Sundance Film Festival and was released theatrically in 2013.
In 2014, he was named a Guggenheim Fellow. In the summer of 2018, Terence's Peabody award-winning television series
Random Acts of Flyness
debuted on HBO to great critical acclaim, and was renewed for a second season by the network. The New York Times hailed the show as "a striking dream vision of race" and "hypnotic, transporting and un-categorizable" adding that "it's trying to disrupt and re-disrupt your perceptions so that, finally, you can see."
In the fall of 2018, it was announced that Nance was tapped to write, produce and direct
Space Jam: A New Legacy
, starring Lebron James. The film premieres in theaters and on HBOMAX this summer. In 2020 Terence released his first EP,
THINGS I NEVER HAD
under the name Terence Etc. He also partnered with filmmakers Jenn Nkiru, Bradford Young, Nanette Nelms and Mishka Brown to form
The Ummah Chroma Creative Partners
– a directors collective and production company. This team released
KILLING IN THY NAME
in collaboration with Rage Against The Machine in January of 2021. Nance is currently at work on healing, curiosity, and interdimensionality, while making season II of
Random Acts of Flyness
and preparing to release his debut album
VORTEX
.