Print 9 of 12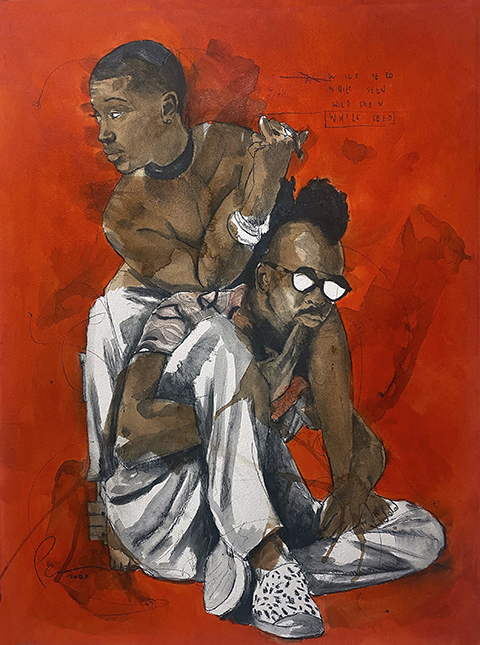 Fahamu Pecou
While Seed

2020
8.5 x 11 in.
Pigment print
Edition of 30
$300
︎︎︎
Add to Cart
Artist Bio
Dr.
Fahamu Pecou
(BSFF13, BSFF17, BSFF20) is an interdisciplinary artist and scholar whose works combine observations on hip-hop, fine art and popular culture. Pecou's paintings, performance art, and academic work addresses concerns around contemporary representations of Black masculinity and how these images impact both the reading and performance of Black masculinity.
Fahamu received his BFA at the Atlanta College of Art in 1997 and a Ph.D. from Emory University in 2018. Dr. Pecou exhibits his art worldwide in addition to lectures and speaking engagements at colleges and universities. As an educator, Dr. Pecou has developed
(ad)Vantage Point
, a narrative-based arts curriculum focused on Black male youth.
Pecou's work is featured in noted private and public national and international collections including; Smithsonian National Museum of African American Art and Culture, Societe Generale (Paris), Nasher Museum at Duke University, The High Museum of Art, Crystal Bridges Museum of American Art, Seattle Art Museum, Paul R. Jones Collection, Clark Atlanta University Art Collection and Museum of Contemporary Art Georgia.
Pecou was recently named the inaugural Artist-in-Residence for the Atlanta Beltline. In 2017 he was the subject of a retrospective exhibition "Miroirs de l'Homme '' in Paris, France. His work also appears in several films and television shows including; HBO's Between the World and Me, Blackish, and The Chi. Pecou's work has also been featured on numerous publications including Atlanta Magazine, Hanif Abdurraqib's poetry collection, A Fortune for Your Disaster and the award-winning collection of short stories by Rion Amilcar Scott, The World Doesn't Require You.